COVID-19 Updates
Update @ 2/9/2021: Deliveries are currently slightly delayed due to Covid and enforced restrictions. We are operating on a reduced team and Australia Post is taking a little longer. Currently, we're taking around 2-3 business days to pack orders. Australia Post is also experiencing delays in their network as they deal with unprecedented volumes. We'll be back to our usual speedy shipping as soon as we can. If you want something quickly select Express Shipping and your order will come to the front of the queue and be shipped quicker by Aus Post. Many apologies for the delay and thanks for your patience and understanding.
Date: 26 August 2020
Australia Delays into Victoria
With the current restrictions in Victoria Australia Post are advising delays of 10 - 12 days. Please take this into consideration when ordering.
Date: 26 August 2020
Australia Post Father's Day Deliveries in Australia
With Father's Day just around the corner, please make sure you leave enough time for shipping. Post your items before these cut-off dates:
For letters and Parcel Post: 28 August 2020
For Express Post: 31 August 2020
Date: 25 August 2020
Australia Post Operations Update
No Weekend Collections in Victoria
There will be no collections in Victoria this weekend – the last pickup for the week will be Friday 28 August 2020 by 8pm and the next collection will be Monday 31 August 2020 commencing from 5am.
Victoria destined Parcels
With the massive demand and workforce capacity constraints, we foresee an additional 3 day delay for deliveries in Victoria. This is both within and into Victoria.
This means, any lodgements made in other States destined for Victoria may be held in those States for up to 3 business days to allow Victoria to work through the present demand.
Date: 6 August 2020
Australia Post Deliveries to Victoria
Please be aware our warehouse is in Sydney, NSW and while Australia Post are not saying there are delays into Victoria we are experiencing delays of around 1 week in some cases. Please factor this in to your purchasing decision.
We are continuing to be cautious and have part of our team working from home and our warehouse team working split shifts. Because of this you may find the telephone go unanswered at times, please leave us a message and we will get back to you ASAP.
Date: 3 August 2020
DHL eCommerce USA and Canada Delivery
We have been advised that there are still delays of 2-4 weeks into the USA and Canada, mainly due to orders now transiting through New Zealand and delays at customs of 1-2 weeks. Express USA orders are being prioritised, however delays may still occur.
Date: 3 August 2020
DHL eCommerce International Update
Additional lanes have reopened, including Brazil, Mexico and South Africa.
Date: 22 May 2020
DHL eCommecre International Update
We have resumed service to the following four lanes: Algeria, Kenya, Sri Lanka and Mauritius.
Date: 20 April 2020
Express Post guarantee temporarily suspended
Effective 20 April 2020, we're temporarily suspending the Express Post guarantee of a refund and replacement envelope or satchel for articles that don't meet the next business day delivery standard Express Post is still available, but please note there are significant delays Our Express Post service will continue to be our fastest postal delivery option for our customers – and we'll continue to prioritise these deliveries. But please be aware that we're experiencing significant delays, and Express Post parcels could take five business days or more to be delivered. This change is due to delays to our delivery services caused by the ongoing impacts of the coronavirus pandemic, including: a significant increase in parcels that require manual sorting social distancing measures in place at our facilities, which mean we can't process items as quickly as usual
a significant reduction in the availability of passenger flights – which, in addition to our dedicated overnight airfreight network, also carry our parcels. The temporary removal of the Express Post guarantee is not intended to impact any rights that customers may have under the Australian Consumer Law.
Date: 8 April 2020
DHL Updated Temporary Suspended Destinations
Please be advised that all postal shipments to France have been suspended, effective immediately. La Poste, the French postal service have suspended inbound postal mail, hence we can no longer accept postal shipments to France, items received will be returned at cost to customers. This temporary suspension is up to 15 April at present, but may be extended by the French Government. Our Parcel Direct service to France continues.
Brazil, Haiti, Sint Maarten & Venezuela have also been added to the list of temporarily suspended lanes.
We will continue to keep you updated with the latest service alerts, however due to the ever-changing situation please expect delays of up to 15 days.
Date: 6 April 2020
DHL Temporarily Suspended Destinations:
Please note we cannot accept freight to the below destinations due to country block, postal backlogs and/or flight cancellations, new additions include South Korea, Hong Kong, Singapore, Thailand and Indonesia. *Note we can accept Packet Plus to Finland, Georgia and Greece.
Date: 1 April 2020
Australia Post Change of Pickup Times and Small Delays
While Australia Post are still fully operating they have seen an increase in demand for their services, this has resulted in some delays of 1 - 2 days being expected, particularly in the Express Post network. We are also seeing reduced pickup times for our parcels from 2 a day down to 1 a day and lodgement times at Post Office reduced from 5pm to 3pm. Because of this we are no longer gaurenteeing Same Day Dispatch, but will continue gaurenteeing Next Day Dispatch.
For furthr information please check the Australia Post website for the latest Australian Domestic Updates.
Date: 31 March 2020
DHL USA Express Temporary Switch
Constraints with air freight capacity for our Parcel Direct US service have continued to intensify, leading to unsustainable rate increases for both our operations and customers. To mitigate this dramatic price increase, we will temporarily switch1 our US Express service to our Standard International service, effective 31 March 2020.
For our customers this means that we are no longer offering our USA Express Delivery option 5 - 7 days and all orders will now be sent using our standard delivery option of 7 - 10 days. Please be aware there may also be additional delays due to current constraints on the delivery network that are out of our control.
Date: 31 March 2020
Australian Carriers Update from Shippit.com
Please allow an extra 1-2 days for delivery.
As logistics remains an essential service, there are currently no service disruptions, however all carriers are still requesting senders to allow an extra 1-2 days transit time as volume increases across the industry. This also applies for submitting support queries with carriers. Carriers are introducing a 2 day buffer before queries can be submitted.
Date: 31 March 2020
DHL eCommerce International Delivery Update
DHL eCommerce have advised that due to ongoing disruptions there may be delays of upto 10 days for all international deliveries.
We will be continueing to do our best to dispatch orders ASAP but please be aware these delays may happen and are out of our control.
DHL Operational Updates as at 30 March:
Service to Spain, Switzerland and South Korea has resumed
New Zealand: deliveries continue despite the country's highest alert, level 4 lockdown
UK: Royal Mail have reported no delivery delays
US: United States Postal Service (USPS) deliveries continue, minor disruptions at present
Europe: Border controls are continuing to add up to 2 day delays to destinations
France: Postal deliveries in France have been reduced to 3 days, expect additional delays
Please do not send mail to the current list of suspended destinations, details below:
Temporarily Suspended Destinations:
Please note we cannot accept freight to the below destinations due to country block and/or flight cancellations: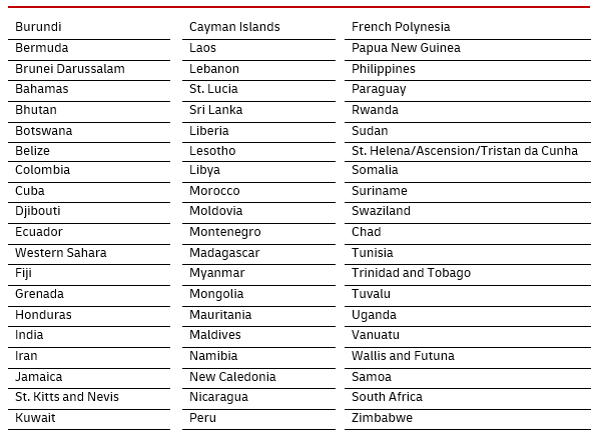 Date: 24 March 2020
Australia Post Service Update
Australia Post remains fully operational. Please be aware it is likely during the evolving COVID-19 (coronavirus) pandemic that some Australia Post deliveries, including delivery of Express Post articles will be delayed.
For the latest information on the action Australia Post is taking to protect the health and safety of its people and customers in relation to COVID-19 (coronavirus), visit important updates section on their website.
Date: 20 March 2020
Aussie Toys Online COVID-19 Update
During these challenging times we hope you are staying safe and also helping those around you stay safe. We want to give you an update with what we are doing and changes to deliveries.
As is the current recommendation we are doing our best to help stop the spread of COVID-19 and stay healthy. Changes our team have made:
- We are all practicing social distancing and good hygiene.
- Customer support and office teams are working from home where possible.
- Warehouse team rotating shifts.
- Additional cleaning throughout the day and providing extra hand washing supplies to our team.
We are continuing to trade as normal and will continue to have promotional activity such as the current Afterpay Day sale. We feel it is important for these activities to continue allowing our team to have a sense of business as usual.
When receiving your order please be aware to limit physical contact, all carriers are now defaulting deliveries to authority to leave (ATL) where possible and will not be requesting a physical signature from the customer/receiver. Drivers will always attempt to deliver but may ask you if you are unwell, leave the order on the ground for you to pickup or leave the order in a safe space if it is available.
If you have questions about your order during this time the best way to contact us is via email at support@aussietoysonline.com.au
It's also very important to get accurate information and not rely on rumours. Please make sure to regularly check health.gov.au for the most up to date information so we can all make sure to stop the spread of COVID-19 in Australia and around the world.
Please stay safe and look after each other,
From all of us at Aussie Toys Online.